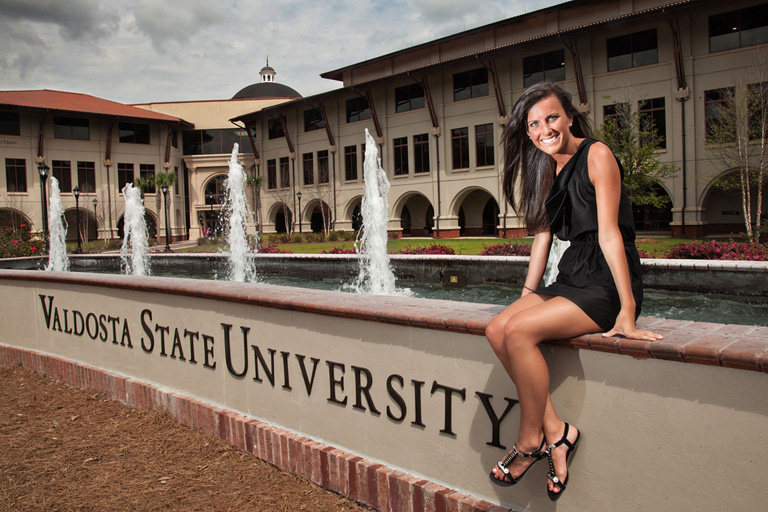 University Ambassadors
The University Ambassadors Program is one that consists of a distinguished group of student leaders who are representing the academic and student perspectives of multiple VSU communities. The University Ambassadors exemplify outstanding achievement in the classroom, involvement on campus and within the community, and participation in student life and activities. Ambassadors interact and engage with prospective students in the community to gain critical leadership skills. 
Mission Statement
The mission of the University Ambassadors is to help provide the best student representation to future, current, and alumni of the VSU community, while also developing student leadership opportunities and skills.  These students should exemplify outstanding achievement in the classroom and involvement on campus as well as within the community.  The Ambassadors will be participating in various commitments within the Office of Admissions as well as other special events hosted by the institution. 
Request A University Ambassador Today
Interested in becoming a VSU University Ambassador?
A VSU University Ambassador is a student who has a passion for the institution and is excited to promote and communicate the amazing opportunities at Valdosta State University. The position as an Ambassador is one of high esteem and a source of self-enrichment.  University Ambassadors should strive to be role models within the University and community.   A University Ambassador is a student who is dedicated to aiding and assisting future students and families, current members of the VSU community, and past VSU Alumni representatives. 
As a VSU University Ambassador, you will:
Help assist are the Office of Admissions, Office of the President, Division of Enrollment, Marketing, and Communication, and the Office of the University Development.
Attend University Ambassador Training Sessions
Assist with different Office of Admissions opportunities (campus tours, open house, and student call center) as well as other special requested events.
Serve as University hosts to prospective and future students and families.
Interact with VSU Executive Leadership, Alumni, and Donors
Priority Registration
Qualifications:
Applicant must be a current full-time VSU Student
Applicant must have a minimum 3.0 GPA
Applicant must be involved in the VSU student community 
Applicant must exhibit strong public speaking & interpersonal skills
Applicant must be in good disciplinary standings with the student code of conduct 
Applicant must have flexible schedule and be willing to assist during evening and weekend events
Other qualifications may be considered
If interested in applying to become a University Ambassador please click the link :Ambassador Application
Applications are due by Tuesday, August 1st by 5:00pm
For more information regarding the VSU University Ambassador Program please contact:                                                                                                        
Hilary Willis
Assistant Director of Admissions
Office: 229-333-5791