The Valdosta Sullivan Scholars Program
Changing the World One Teacher at a Time
About Ruby Sullivan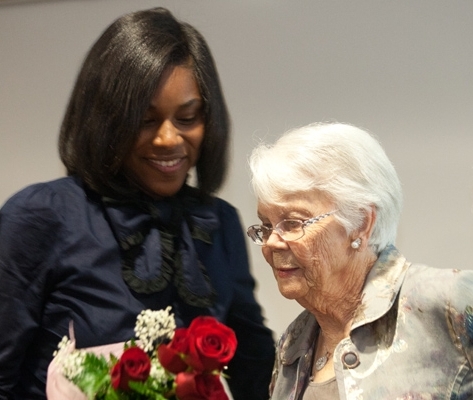 Mrs. Ruby Sullivan graduated from Valdosta State University (formerly known as Georgia State Woman's College) in 1932. She received her degree in education and taught for 67 years. She dedicated her life to teaching students in high-poverty schools in rural Georgia. Mrs. Sullivan's passion for serving others and desire to honor her late son John, led her to create the Valdosta Sullivan Scholars Program.
Valdosta Sullivan Scholars Program (VSSP)
The Valdosta Sullivan Scholars Program is an invitation only scholarship program consisting of 3 phases. Principals, assistant principals, teachers, and counselors can nominate up to 3 rising high school juniors or seniors who meet the following eligibility criteria:
a) student is from a participating Georgia High School (visit the participating high schools page to find out which schools are participating this year);
b) student has a desire to attend college and become a teacher;
c) student has a GPA of 3.0 or better;
d) student has a significant need for financial aid to attend college.
Phase 1: Sullivan Scholastic Students
Principals from rural Georgia school districts will be invited to participate in the program. These selected schools will be able to nominate up to 3 students (rising juniors/seniors in high school) who are committed to becoming a teacher. Once 2 nominations have been received, the nominated student will apply to the program. If selected, the student will become a Sullivan Scholastic Student and be expected to maintain a 3.0 GPA or higher and tutor a middle grades student for 2 semesters before graduating from high school.
Phase 2: Sullivan Interns
Once a Sullivan Scholastic Student has graduated from high school and met the Valdosta State University freshman entrance requirements, he/she will become a Sullivan Intern and receive a Sullivan Scholarship that will combine with other scholarship funds (HOPE, Pell, or Zell Miller) to provide a DEBT-FREE college experience.
Sullivan Interns will complete their CORE coursework, maintain a 2.75 minimum GPA and participate in a Sullivan Scholars Learning community.
Phase 3: Sullivan Teacher Preparation Students
Once a Sullivan Intern completes the CORE requirements and is admitted into a teacher preparation program at Valdosta State University, they will continue to receive a DEBT-FREE college experience.
Upon graduation with a teaching certificate, a Sullivan Scholar who chooses to teach in a high-poverty school within the state of Georgia will receive a $2,500 stipend for the first two years of his/her teaching career.
Mailing Address
1500 N. Patterson St.
Valdosta, GA 31698